Welcomeeeeee October! The fall is one of the most beautiful times of the year. Don't get me wrong, at the risk of sounding cheesy, I love all the seasons.
The bright colors of the trees, and the excitement of going to a pumpkin patch has always been a favorite. The smell of the hay, the hot apple cider I carry around to keep my hand warm and the sometimes agonizing process of my kids choosing just the right pumpkin – is right up there with all my favorite things. I love that we can sit around a fire this time of year both inside and out, and seeing the costumes on Halloween makes me smile.
But that's not all that happens in October, it's also family history month. It seems fitting because we all take so many photos starting at this time of year and on through pretty much New Year's Eve! Let's talk about those photos and how we can make the most of them!
1. Share the photos!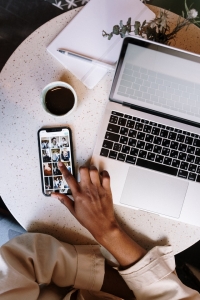 1.4 TRILLION photos are taken each year! Is that unbelievable or what! It has become so easy to turn into a little paparazzi for our kids! One of the easiest ways to celebrate family history month is to share these photos with your family members. Got family that live in other states? Down the road but you don't see them often? Or grandparents who love to get mail! From emailing, to texting to actually printing out photos (crazy idea – I know 🤣 ) there are so many ways to get these in the hands of your loved ones. Make a project out of it – have your kids create a collage to send to their grandparents or to hang int heir room to enjoy themselves! Don't forget that your kids rarely see all the photos you take of them! Let them enjoy them too!
2. Have fun with family recipes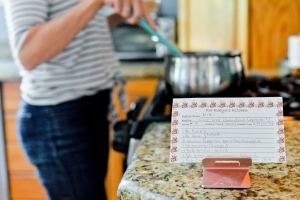 What is your favorite recipe a family member is known for? For us, we like Mimi's monkey bread and Grammy's soup. Celebrate by making one of these recipes and enjoying it together as a family! Don't have the ingredients today? No problem! Instead, collect all your family recipes and write them out so each family member has a copy. Get creative! Put them in a photo album, create them in a digital format and save them in your FOREVER account or decorate them to make them special to you.
3. Record your family stories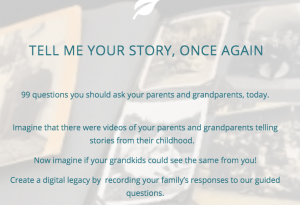 What better way to honor your family than to ask them about their life. Your family has great stories to share, but it can be hard to ask the right questions or to know how to capture them. Use our guided questions to help start the conversation and learn about your family's story.
4. Trace your family roots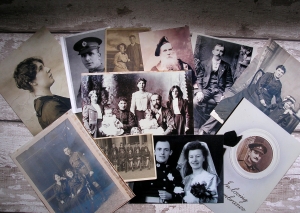 With so many free options out there, it is a great way to start looking into your family's genealogy. Websites like FamilySearch, USGenWeb, and RootsWeb are a few of the many free options out there. Interested in diving in a little deeper? Check out sites like Ancestry or Genealogy
5. Create a family tree
You can go as big, or as wide as you are able with this family tree! This is a great way for kids to understand their family and how they all relate. Include them in the process and you are sure to learn something, and have tons of fun! I bet a story or two will make it's way to the surface during the process! If you don't have family records for multiple generations, that's ok! Just make it as detailed as you can with what you know. There are tons of free templates online if you need some inspiration!
These are all fun ways to get your family involved, learn a bit about your history and have some fun along the way!  So while your snapping pictures, drinking hot chocolate and carving your pumpkins, be sure to think about how you can use those pictures to celebrate Family History Month!!
Need a little more inspiration? Check out our website to see how are helping families to capture their story!